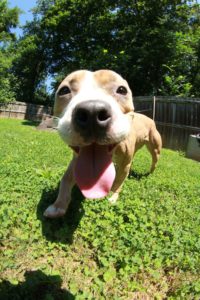 Pitties.Love.Peace, Inc. is a non-profit 501c3 organization in Central PA. We are an all-volunteer group of dedicated people devoted to the rescue of pit bull and bully mix puppies and adult dogs. Our primary focus is dogs in need within Central PA. There are many dogs that are mistreated, neglected or simply unwanted. Many factors lead otherwise loving families to give up their pet, losing a job, home foreclosure, divorce, illness, etc. Pitties.Love.Peace is here to help whenever possible. Our mission is to rescue dogs in need, advocate for the bully breeds who are so misunderstood and to educate people about pit bull and pit bull type dogs.
Pit bulls are one of the most mistreated, misunderstood and misrepresented breeds of all time. Pitties.Love.Peace's mission is to save those neglected and suffering at the hands of humans and to adopt them into loving forever homes. One of our main goals is to advocate for the breed we love so much and to educate the public on the truth about pit bulls.
We invite you to browse our website and learn more about these wonderful dogs.
If you are looking to add a new furry friend to your family, please check out our ADOPTABLE DOGS.
Did you fall in love with one of our adoptable dogs?
Start the adoption process by filling out our ADOPTION APPLICATION.
If you'd like to volunteer, download a VOLUNTEER APPLICATION.
We think you will better appreciate and understand why the American Pit Bull Terrier has been one of the most popular family dogs in the country for the past several decades.
"Saving one dog will not change the world, but it will surely change the world for that one dog."