Stay updated with everything Pitties.Love.Peace!
7/1/17
As if Nolan wasn't already a super cool dude, he now has his Novice Trick Dog Certificate! His foster parents just adore Nolan to pieces and work daily on training with him, even if it's just ten minutes of commands. Nolan is such a smart boy who loves to learn new things. After learning tons of obedience commands his foster parents moved on to some fun tricks. Here's a video they made to show of some of them!
Congrats on earning your Novice Trick Dog Certificate, Nolan!
---
Monday, 8/22/16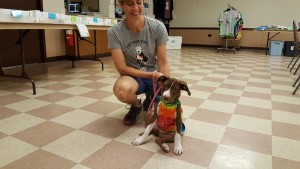 We'd like to give a shout out to our generous sponsors, amazing volunteers, and wonderful supporters who made our Tahoe's Summer of Love Chicken BBQ on Sunday a huge success! Our event started at 11am and despite the nasty weather, it did not stop our wonderful supporters (and hungry friends)!
We're happy to report that by 1pm, we sold out of dinners! While we were sad to turn people away empty-handed, we were ecstatic that our 1st Chicken BBQ was such a success.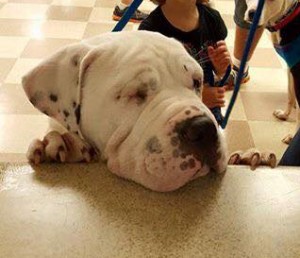 Zelda (pictured left) was disappointed that she missed out on a chicken dinner… 'shoulda bought a ticket Z!
Once we totaled up proceeds from our merchandise, ticket sales and donations, we raised $4205! Our always fabulous and very generous Tahoe (pictured below, middle) matched our proceeds raising the grand total to $8410. Woohoo!
This is truly fantastic and will go towards our veterinary costs for the dogs in our care. Thank you everyone!
——–