How Can You Help Pitties.Love.Peace?
Pitties.Love.Peace. is a 501c3 non-profit organization, run by a group of dedicated and passionate volunteers. This means that 100% of the funds you donate, go directly to the wonderful dogs in our care.
All of our rescue dogs receive the best veterinary care, premium dog food and any other essential items they may require before they are adopted out to their forever home. Many of these dogs need urgent and expensive medical care and the costs add up quickly.
The following are ways you can help make a difference in a dog's life:
1. Make a Donation
Electronically via Paypal:

By check payable to:
Pitties Love Peace, Inc.
P.O. Box 534
Elizabethtown, PA 17022-0534
---
2. Provide Wish List Items
View our Amazon Wishlist here
Remember… when you shop through Smile.Amazon.com (see #5 below), we get a portion of your sale as a monetary donation also. The prices are the same, it's just a different URL to track your sales for the donation amount 🙂
Crates
Blankets and towels
Treats
Kong Extreme Toys
Easy Walk Harnesses (Sizes Medium, Md/Large, Large)
Nylabones (for heavy chewers)
Sterilized White bones/natural bones
Puppy toys (for when we have young babies and litters of puppies)
6 ft leashes
Slip leashes
---
3. Foster a Dog
If you're not ready to permanently adopt a needy pit bull but would still like to make a difference in the life of a dog, then please consider becoming a foster parent. Fostering a dog is a tremendously rewarding experience and truly helps them receive the care and training they need while they wait to find their forever home. We are always looking to expand our network of foster homes with responsible foster parents. All applications are considered carefully by our trained volunteers. If you are considering fostering a dog, please email us, or contact us at the address below for more information. We pride ourselves in timely responses so if you have not heard from us within 24 hours please email again in case we did not receive the first email.
Pitties.Love.Peace, Inc.
P.O. Box 534
Elizabethtown, PA 17022-0534
You can also fill out our Foster Application!
---
4. Become a Volunteer
Pitties.Love.Peace is an all-volunteer based organization and is always looking for dedicated people to help us in a variety of ways. There are many different ways to help, a few examples are walking dogs, bathing dogs, attending events with one of our rescue dogs, assistance with fundraising, reviewing adoption applications, transporting dogs, doing home visits, etc.
Please email us for more information or download a volunteer application.
---
5. Shop and choose "Pitties Love Peace Inc" as your benefiting charity


Learn about Smile.Amazon.com here
---
6. Subscribe to BarkBox with our code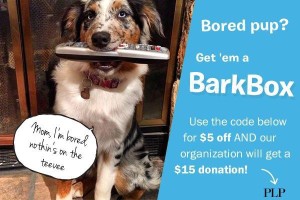 ---
We appreciate your generosity and support.
Thank you!
Pitties.Love.Peace, Inc.