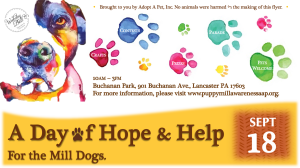 Sunday 9/18/16
10-3 PM
Buchanan Park
901 Buchanan St.
Lancaster, PA
FREE ADMISSION
· MEET THE AMAZING RESCUE GROUPS WHO COULD HAVE YOUR NEW BEST FRIEND AND FAMILY MEMBER
· Doggie games, some obedience required 11:00 am
· Survivors and Friends March 1:00
· Blessing of the animals will start at 1:30
· Children's craft area will be open all day.
· LOTS OF GIVEAWAYS FOR DOGGIES AND THEIR FAMILIES.
· FOOD TRUCKS FOR YOUR DINING PLEASURE
· Meet the Artist Laura Bolle' and perhaps win a signed drawing of your pet or child.
Victoria Stilwell will be holding a hour long question and answer session. Scheduled time will be posted prior to the event. Lawn seats are on a first come basis. You must be present to have your question answered.