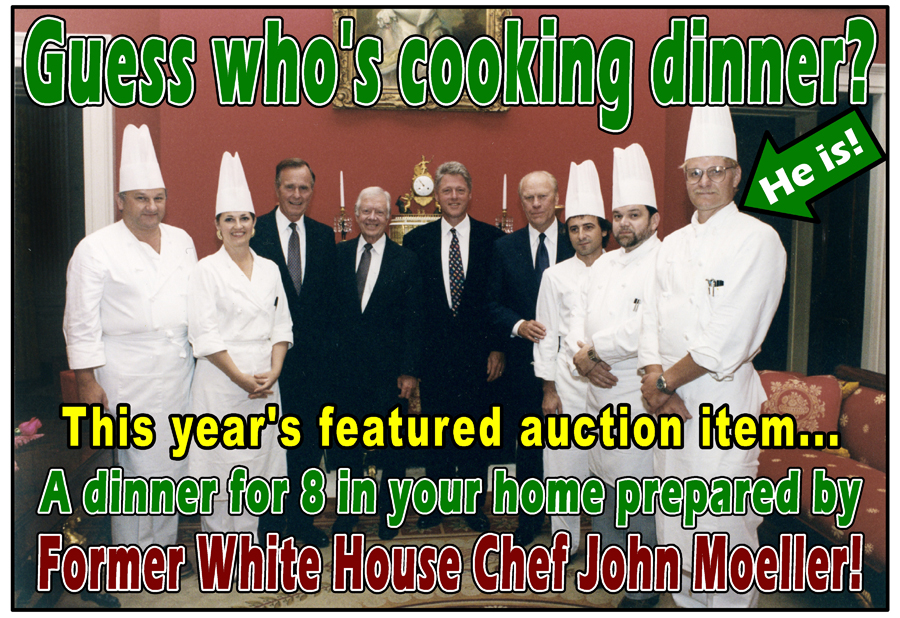 One of this year's featured auction items, is a Private 4-Course "State Dinner" for 8 guests in your home prepared by former White House Chef, John Moeller!
Originally from Lancaster, PA, John was the White House Chef for 13 years and cooked for President George H.W. Bush, President Bill Clinton and President George W. Bush. He was responsible for all of the private meals for the First Family and the Official Functions that occurred in the White House and Camp David.
We are extremely honored and exited that Chef Moeller John has offered this one of kind experience for our live auction at this year's 5th Annual St. Pitties' Day Party.
At past benefit auctions, John's "State Dinners" have typically raised $5,000 to $10,000. Looking for a truly unique Mother's Day gift? Here it is!
Knowing this item has the potential of raising a great amount of money for our rescued dogs, we will take early bid offers from those who cannot attend the event.
If you, or someone you know, would like to place an early bid on this item, please email us at info@pittieslovepeace.com.
Notes regarding this auction item:
1.) The winning bidder must reside within 30 miles of Lancaster, PA
2.) a mutually agreed upon date will be set by Chef Moeller and the winning bidder
3.) due to John's schedule, it is very likely this dinner will need to be held on a weekday night
4.) beverages are not included.