Ladies Blue Topaz and Diamond Ring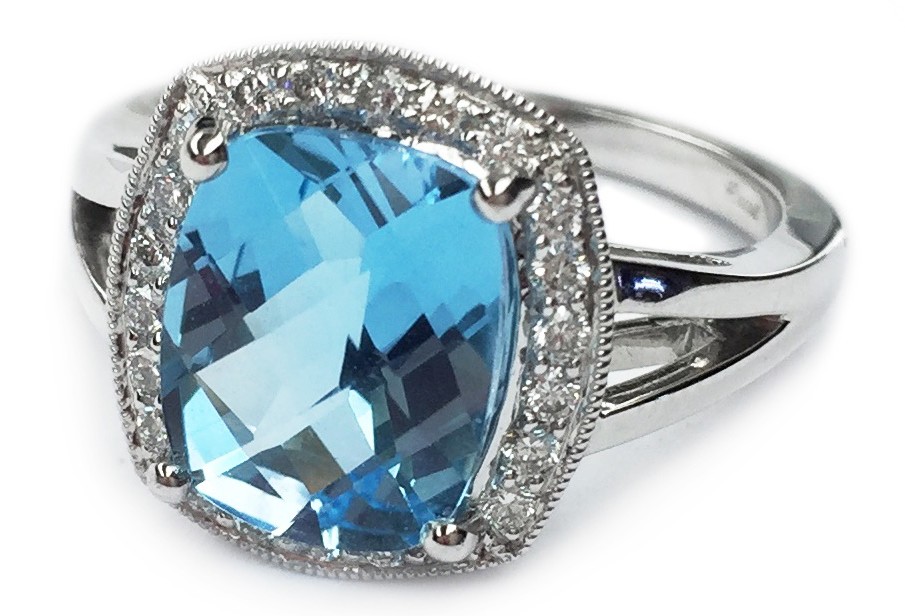 Donated by Munn's Diamond Gallery
Made by one of our favorite designers, Coast Diamond, this beautiful ring consists of a Swiss Blue Topaz center stone and (24) round shape diamonds.
The shape of the center stone is a rectangular cushion cut with checkerboard faceting. (22) of the diamond side stones are pave' set and surround the topaz
in a halo style. The other two diamonds are set in the gallery underneath the
halo on each end of the ring.
The mounting is 14k white gold with a polished finish. Inside of the ring is engraved PLP 2017 to commemorate the Pitties.Love.Peace Gala.
Currently the finger size is 6½. We will size the ring to fit at no charge.
Blue Topaz carat weight: 3.21 ct.
Diamond carat weight: .24 cttw.
Total Carat Weight: 3.45 cttw.
Gem and Metal weight 3.0 dwt.
Registration #200-042
Replacement Value $ 1,130.00
If you, or someone you know, would like to place an early bid on this item, please email us at info@pittieslovepeace.com.