Join us on Sunday, December 7 from 10 a.m.-2 p.m. for a Christmas Shopping Event.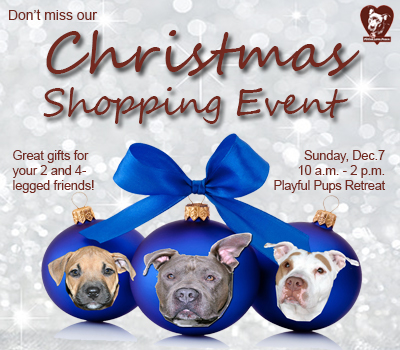 850 Milton Grove rd. North, Elizabethtown, PA 17022

Shop for awesome dog lover/pittie lover gifts


Enjoy holiday snacks while you shop


Bring a donation for our PLP wish list and
get 10% off your gift purchases
Items Available:
Pit bull t-shirts
Far Fetched Jewelry
Dean Russo Art Prints
Bully related car magnets
Fleece dog toys and blankets
Pit Bullevard Signs
Pitties.Love.Peace t-shirts (limited supply)
Fun stocking stuffers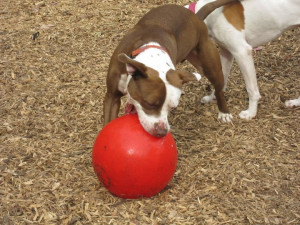 Pitties.Love.Peace, Inc. is a non-profit 501c3 organization in Central PA. We are an all-volunteer group of dedicated people devoted to the rescue of pit bull and bully mix puppies and adult dogs. Our primary focus are dogs in need within Central PA. There are many dogs that are mistreated, neglected or simply unwanted. Many factors lead otherwise loving families to give up their pet, losing a job, home foreclosure, divorce, illness, etc. Pitties.Love.Peace is here to help whenever possible. Our mission is to rescue dogs in need, advocate for the bully breeds who are so misunderstood and to educate people about pit bull and pit bull type dogs. We also provide financial assistance to families who cannot afford veterinary care such as spay/neuter and vaccinations.
Pit bulls are one of the most mistreated, misunderstood and misrepresented breeds of all time. Pittie.Love.Peace's mission is to save those neglected and suffering at the hands of humans and to adopt them into loving forever homes. One of our main goals is to advocate for the breed we love so much and to educate the public on the truth about pit bulls.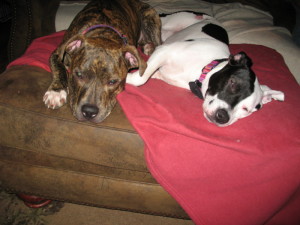 We invite you to browse our website and learn more about this wonderful dog. If you are looking to add a new furry friend to your family please check out our ADOPTABLE DOGS. Feel free to fill out an ADOPTION APPLICATION or contact us to set up a time to visit with some of them. We think you will better appreciate and understand why the American Pit Bull Terrier has been one of the most popular family dogs in the country for the past several decades.
"Saving one dog will not change the world, but it will surely change the world for that one dog."